Sat.Jan 21, 2012 - Fri.Jan 27, 2012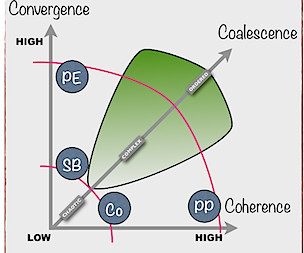 Confused or Strong Beliefs?
Harold Jarche
JANUARY 26, 2012
Complex, as defined by Cynefyn is a state in which the relationship between cause and effect can only be perceived in retrospect, but not in advance.
PR's problems, 20 years later
Doc Searls
JANUARY 22, 2012
The magazine Upside has been erased. Some bits of it still persist on the Internet Archive , but nothing before 1996. So I thought it would be fun to surface it now on the blog, on the 20th anniversary of its original publication. Here goes: T HE P ROBLEM W ITH PR. Toward a world beyond press releases and bogus news. By Doc Searls. No Peabody.
Learning with people, not technology
Jay Cross
JANUARY 23, 2012
New Seasons exemplifies taking a non-training alternative to workplace learning. Face-to-face methods like mentoring might be best. Not on your life!
"I can't teach at Stanford again"
George Siemens
JANUARY 23, 2012
Open online courses really mess things up. The force educators/funders/learners to question the value point of traditional education. There is substance to massive open online courses (MOOCs) that goes well beyond the current buzz and hype. Udacity will build on the open course models of teaching and learning. "
Do you need to be managed?
Harold Jarche
JANUARY 23, 2012
Tweet These days it's more productive to think of organizations as  organisms. Managers become stewards of the living. Living systems thrive on  values  that go far beyond the machine era's dogged pursuit of efficiency through control. Living systems are networks. Do we really need managers? Flipping management. 21C_Leader InternetTime Work
More Trending