Sat.Mar 03, 2012 - Fri.Mar 09, 2012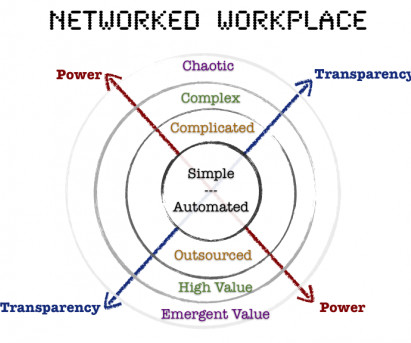 Making collaborative work work
Harold Jarche
MARCH 7, 2012
Tweet Everyone talks about collaboration in the workplace today but what does it really mean? How do you get from here to there?
MOOCs for the win!
George Siemens
MARCH 5, 2012
Massive open online courses, or MOOCs, are getting attention on various blogs and news sites. I'll try and synthesize the conversation over the last few weeks and describe the role of MOOCs in education. The goal is to ensure a high quality learning experience to anyone with sufficient technical ability and access to the Internet.
[2b2k] No, now that you mention it, we're not overloaded with information
David Weinberger
MARCH 8, 2012
On a podcast today, Mitch Joel asked me something I don't think anyone else has: Are we experiencing information overload? Everyone else assumes that we are. Including me. found myself answering no, we are not. There is of course a reasonable and valid reason to say that we are. Some of those sights are awe-inspiring. Some are life-changing.
Learning Without Training
Jay Cross
MARCH 5, 2012
Here are a few examples of learning before and after instituting the learning infrastructure we call a Workscape. Note what's happening here.
Subject matter networks
Harold Jarche
MARCH 5, 2012
Tweet "I think the singular SME is an antiquated a notion as the solitary game player & our development pipelines need to change."
More Trending