Sat.Dec 01, 2012 - Fri.Dec 07, 2012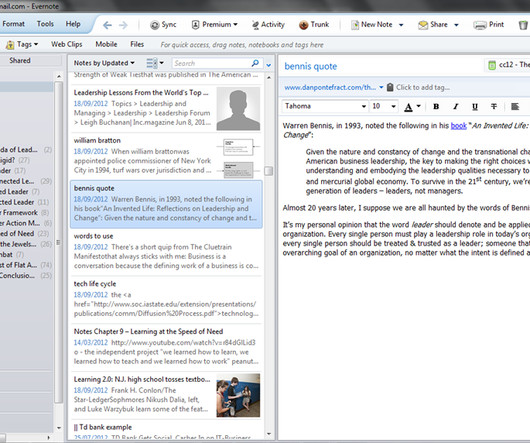 Big Data, Complex Systems and Quantum Mechanics
Irving Wladawsky-Berger
DECEMBER 7, 2012
Big Data is one of the hottest topics out there.  Big data is a foundational element in IT's quartet of Next Big Things : Social, Mobile, Analytics and Cloud.  But, as the real world keeps reminding us, it is possible to make bad predictions and decisions even if you use tons of big data to make them.  Let me explain.  .
A Power of Pull Milestone
John Hagel
DECEMBER 4, 2012
Today marks a milestone in The Power of Pull – the release of the paperback edition of the book. It's an opportunity to step back and reflect on the impact that the book has had and explore where there might opportunities to have even great impact. The challenge of timing.   This wasn't exactly what executives wanted to hear.
The biggest picture
Doc Searls
DECEMBER 6, 2012
I want to plug  something I am very much looking forward to, and encourage you strongly to attend. It's called The Overview Effect , and it's the premiere of a film by that title. Here are the details: Friday, December 7, 2012 - 5:30pm - 7:00pm. Askwith Lecture Hall. Longfellow Hall. 13 Appian Way. Harvard University. Cambridge, MA.
More Trending