Wed.Dec 26, 2012
Creating More Intelligent Organizations
Irving Wladawsky-Berger
DECEMBER 26, 2012
I recently read a fascinating online conversation on Collective Intelligence with Tom Malone.  tools and platforms.   . Why are they doing it?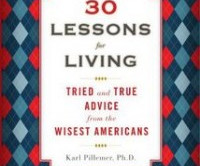 30 Life Lessons From 1,000 Older Americans
Dan Pink
DECEMBER 26, 2012
Cornell human ecology professor Karl Pillemer spent five years interviewing more than one thousand Americans older than 65. How do you explain this?